Health Benefits and Delicious Flavor
The Hidden Powers of Indian Food
Are you looking to adjust your diet to include more health benefits?
Want to eat healthy without sacrificing flavor?
Considering alternative foods?
Want to add some spice to your daily routine of eating?
It is possible that other cuisines can provide answers to the above questions. However, we know with certainty that Indian food answers all the above questions in ways that you may have yet to experience.
Reasons To Eat Indian Food:
Before discussing what the scientific community reports about why you should eat more Indian food, we would like to share the three common reasons for eating from our menu. The incredible menu offerings found at Royal India Thailand will:
tantalize your sense of smell;
please your taste buds; and,
benefit your health.
Of course, we believe that the above reasons are more than substantial enough for you to make your way to our restaurant, but there is more.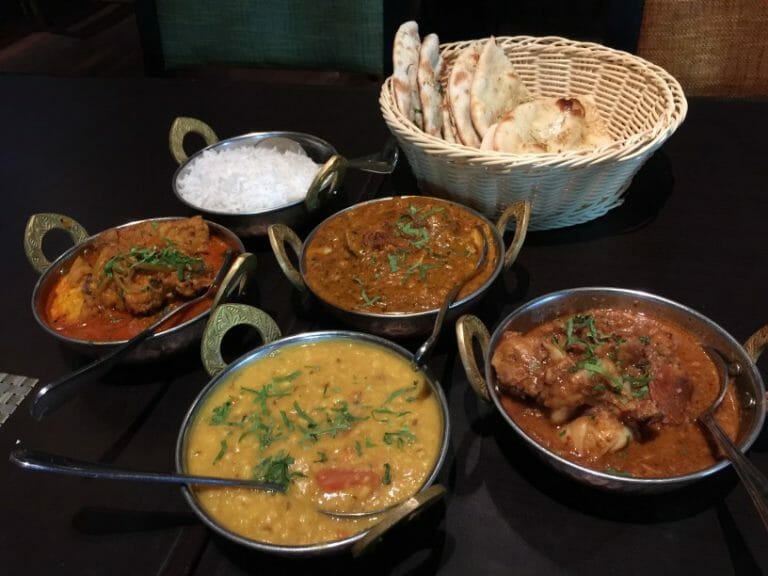 Health Benefits of Indian Food
There are many healthy and unhealthy dishes available in every cuisine worldwide. But Indian food ranks at the top of the list for health benefits.
We make Indian food with various spices, proteins, carbohydrates, and raw ingredients, such as grains, dairy, and vegetables. A typical Indian dish has at least 7 ingredients and may range between 2 and 20 ingredients. These components blend towards a balanced diet.
Indian Food Is Delicious And Healthy
In 2005, after examining 17,000 different Indian recipes, researchers found 194 unique ingredients within Indian cuisine. With that many options to choose from, it is no surprise that our food is a delectable synthesis that results in an aromatic and sophisticated meal.
Why Is Indian Food So Distinctive
The signature of Indian food is negative food pairing. Negative food pairing to completely different from the strategy of flavor compounding, which is the basis of most western cuisines.

The ingredients found in an Indian recipe are uniquely placed to shape the flavor sharing pattern with the other ingredients, and sensitive to replacement even with other spices.
Many restaurants use many oils and sugar to create more flavor in their food to attract customers. It can cause a typically healthy dish to become an unhealthy dish. For example, cooking at home and cooking in a restaurant is the amount of oil used to prepare the food.

So, when we say that a dish is healthy, it depends on how prepared.

Here at Royal India in Siam Paragon, our purpose is to serve traditional Indian cuisine we prepare the meals the same way in our home.

Traditional at-home eating brings an undeniable comfort to our senses where everyone can relate. Still, the benefits of these foods can be shocking.
Shocking Health Benefits From Eating Indian Cuisine
There are many powerful effects on the body with many of these spices. We know them to contain anti-microbial and antioxidant properties that might stop other microorganisms' growth in your body.
Some can aid metabolism, and some can help you lose weight or even prevent cancer. The essential spices that we use at Royal India at Siam Paragon include but are not limited to:
Black Pepper
Cayenne
Cardamom
Chili Peppers
Cinnamon or Dalachini
Coriander
Cumin Seeds
Clove
Nutmeg
Turmeric
These spices are found in some of our most popular dishes:
Chicken Tikka
Paneer Tikka
Tandoori Chicken
Rogan Josh
Chicken Tikka Masala